The Beautiful Disappointment: Discovering Who You Are Through The Trials of Life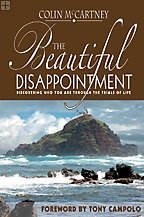 In "The Beautiful Disappointment", Colin McCartney shares his personal struggles in dealing with the murder of one of his staff, the death of a child in his program and his own near death experience from a paralysing water accident in Hawaii. While he was recovering from this life threatening accident in the critical care unit, he slowly realizes that trials are "beautiful disappointments" God can use to purge us off all the false things we have allowed to disfigure who we truly are. A true story that will leave the reader truly changed.
This book was shortlisted as a finalist in two categories for the prestigious 2009 Word Guild Canadian Christian Writing Awards.