Rev. Colin McCartney is the founder of UrbanPromise Toronto and Connect Ministries. Rev. McCartney, has appeared on Canadian television, radio and national newspapers regarding urban issues. He is an author of two best sellers ("The Beautiful Disappointment" and "Red Letter Revolution", Castle Quay Publishers – see resources section), mentor to pastors and business people and is in high demand as a speaker who has spoken to audiences as large as 7,000 people. You can learn more about Colin's book and DVD in the "Resources" section of this website. Colin is devoted to training up young adult leaders to be church planters or to be revivalists of dying urban churches in low – income city neighbourhoods. While doing this work he currently is involved in revitalizing a struggling church in the city of Toronto.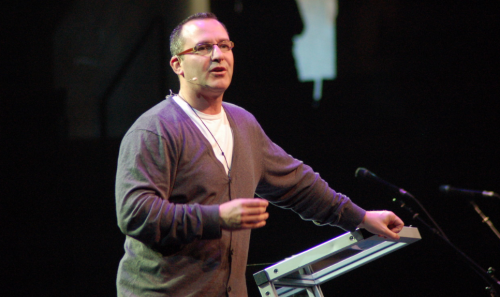 "Colin McCartney is one of the brightest leaders in the new generation of leaders arising in Christendom. A dynamic speaker, visionary and evangelist, Colin has been used by God to inspire many into a deeper discipleship."
 —Dr. Kenneth B. Quick, D.Min. Assistant Professor of Practical Theology, Capital Bible Seminary, Washington D.C, USA
 "Colin takes life in its rawest forms, examines it through a sociological and theological grid, and translates the bottom line into practical personal and community forms of transformation."
—Dr. John H. Wilkinson, Former Executive Director, Toronto YFC (Youth Unlimited)
 "Colin McCartney is a man of character, depth and wisdom who speaks with passion and relevance. As an event planner, I have worked with hundreds of communicators. Colin is a world-class communicator, one of Canada's very best, while also remaining approachable and real. His personal story makes him an overcomer, and his character is evident while on stage, but most importantly off the stage. He draws people to himself, and uses this talent to draw people towards a compelling vision of a better world."
—Darren DeGraaf, Former Arrow Leadership and Director of Youth Ministries, Baptist Convention of Ontario and Quebec
 "I really appreciate your prophetic, yet gentle words. Your presence and your talk the other night was for me personally very challenging, very eye-opening, very humbling and yet very encouraging! Doesn't that kinda sound like the Spirit's work in a nutshell? It's great to see how powerfully God's working through your life."
– Rev. Chris Carter, St. Andrews Presbyterian Church, Parry Sound, Ontario
 "Colin is a passionate and effective communicator of the gospel. We have welcomed him as a keynote speaker for many of our events and both our youth and our leaders speak highly of his engaging style and urgent call to deep commitment to Christ."
— Dr. Bruce Fawcett, President & Vice – Chancellor, Professor of Leadership & Religious Studies, Crandall University. Former Director of Youth and Family Ministries, Convention of Atlantic Baptist Churches & Director of the Youth Ministry Program, Acadia Divinity College, Acadia University
 "Jesus' deep compassion for children fuels Colin's commitment to making a difference to at – risk kids in the city of Toronto. Colin speaks with passion, integrity and a ton of personal experience. You come away feeling the heartbeat of God for these children."
 — Rev. Donald Boyd, Sr. Pastor, Toronto, Ontario
"Colin McCartney is a gifted and passionate speaker who believes deeply in what he speaks on. He speaks with boldness and compassion without compromising God's truth.
— Rev. Dr. Herman Chow, Toronto
"Colin McCartney is the kind of man you can trust behind your microphone. Colin's mix of humour, real – life stories and biblical parallels makes for a very natural and compelling presentation. He is not there to make you comfortable he will, indeed, challenge his audience to choose the road less traveled. His obvious love for Jesus Christ and those whom Jesus loves is, quite frankly, contagious!"
 — Paul Simons, former National Network Director, Equipping Evangelists (E2) and former Ontario Regional Director, The Church Army in Canada (Anglican Church)
"We loved the manner in which Colin worked with our camp and the way he gave the message. Many young people responded to the messages Colin gave as a result of him coming all this way. We highly recommend him as a speaker."
 —Martin Reurich, Founder and Director, Fitzroy Falls Conference Centre, Australia
"Colin, We've seen each other at various events. Thank you for your gift of words…no matter how you bring it you always touch my heart and this weekend you touched the heart of so many youth. I think you are one of those people who just attract others. I wish we could get to know each other more as every time I hear you speak or even just talk to you briefly one on one…I don't want to stop talking and listening. You are a blessing from God and I look forward to seeing and talking to you again."
– Scott (Attendee at a conference Colin McCartney spoke at)